---
Strange and Ever After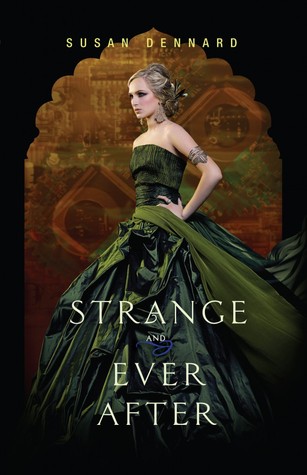 Author: Susan Dennard
Series: Something Strange and Deadly, #3
Genre: YA, Fantasy, Historical Fiction
Publisher: HarperTeen
Expected Publication Date: July 22nd, 2014
Format: eARC
Source: FFBC
Purchase: Amazon | B&N | Kobo | iBooks
In the conclusion to the trilogy that Publishers Weekly called "a roaring—and addictive—gothic world," Eleanor Fitt must control her growing power, face her feelings for Daniel, and confront the evil necromancer Marcus…all before it's too late.
He took her brother, he took her mother, and now, Marcus has taken her good friend Jie. With more determination than ever to bring this sinister man to justice, Eleanor heads to the hot desert streets of nineteenth-century Egypt in hopes of ending this nightmare. But in addition to her increasingly tense relationships with Daniel, Joseph, and her demon, Oliver, Eleanor must also deal with her former friend, Allison, who has curiously entangled herself in Eleanor's mission.
With the rising dead chomping at her every move and Jie's life hanging in the balance, Eleanor is convinced that her black magic will see her through to the bitter end. But there will be a price. Though she and the Spirit Hunters have weathered every battle thus far, there will be consequences to suffer this time—the effects of which will be irreversible. And when it's over, only some will be able to live a strange and ever after.
Susan Dennard will leave readers breathless and forever changed in the concluding pages of this riveting ride.
---
** I received an advanced copy from HarperTeen via Edelweiss in exchange for an honest review.**
First Impression
Something Strange and Deadly was a series I'd hear people talk about often but in all honesty I really had no idea that they were talking about. So I finally did my research, read the synopsis and I knew this would be a good series!! How often do you come across the combination of zombies in an historical setting? Never. While I did really want to read the books I never had the motivation to start them until I came across the blog tour. I went out and bought the previous books and dove head first into this world, and boy I'm happy I did!
Opening Lines
I was not suppose to be here. Oliver would be furious. Joseph even more so. This dock was the no-man's-land between realms. It was a place for ghosts."
The Good
Sometimes books can be predictable, okay most times, but especially when a series comes to an end. When I started Something Strange and Deadly I didn't know what to expect, neither with A Darkness Strange and Lovely. Although, I have to admit I feel like A Darkness Strange and Lovely suffered a bit from middle book syndrome. But when it came to Strange and Ever After I thought I had it all mapped out. I didn't think there would be any MORE surprises and I was beyond wrong. The thing that I loved the most about this book was the character development, through the past books we see Eleanor trying to come to terms with all that is right and wrong and I feel that as a final book she finally blossomed! Now Oliver and Daniel, I wasn't sure what path she would take with these two characters and you won't be able to either.
Now for the heartbreaking part: the ending. While I was getting closer and closer to finishing Strange and Ever After I started to realize where Susan was going. I screamed "NO!" at my book because I couldn't believe she would actually do it, but she did! She gives you an ending you don't really see coming, and although I hate it, it was the perfect and most fitting ending I could ask for. Lastly, I found that as each book was written Susan just kept on improving. Not to say that the previous books were written poorly, they weren't, it was just that she was so descriptive in the final installment and I went through so many different feelings! I'll leave you with two quotes that I loved and are the only ones that won't really spoil anything. While this review can seem vague I just don't won't to spoil ANYTHING for anybody, because this book was beautiful as much as it was perfect and one I think everyone needs read.
"…because I could not have my good-bye. My final "I love you". There would be nothing."
"Tears ran down my cheeks, but I didn't mind. They were as common as spring rain these days-and I hoped just as cleansing.
The Bad
The fact that it had to come to an END!!! But really there is nothing I would consider bad.
The In-Between
Still haven't come across anything.
Lasting Impression
Overall, Strange and Ever After is a beautifully written conclusion to this trilogy. I can't express how much I want everyone to pick up this book! If you haven't read this book yet, get it! If you haven't read the previous books, go pick them up! Strange and Ever After won't be released until July 22nd, so you have time! I'm so excited and looking forward to Susan's next series Truthwitch that is expected to release sometime in 2015, let the waiting game begin.
– One (1) hardback copy of Strange and Ever After (US only)
– One (1) E-book of
Strange and Ever After
(INT)
*Giveaway ends on July 22nd, 2014!*
I am a writer, reader, lover of animals, and eater of cookies. I used to be a marine biologist, but now I write novels. And not novels about fish either, but novels about kick-butt heroines and swoon-worthy rogues (I really like swoon-worthy rogues).
I live in the Midwest with my husband and two dogs (Asimov and Princess Leia), and you can learn more about my crazy thoughts and crippling cookie-addiction on my blog or twitter.
My debut, SOMETHING STRANGE AND DEADLY is now available from HarperTeen along with the prequel, A DAWN MOST WICKED, and the sequel A DARKNESS STRANGE & LOVELY.
Look for STRANGE & EVER AFTER in summer 2014 and TRUTHWITCH in fall 2015!
Note: I am on Goodreads to READ. So, if you want to discuss books and the joys of literature, add me as a friend.
Links: Website | Goodreads | Twitter | Facebook
Thanks for stopping by!