Finding Hope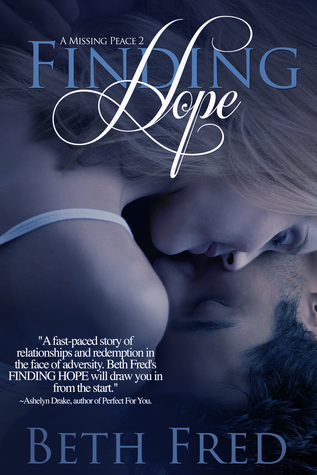 Author: Beth Fred
Series: A Missing Peace, #2
Genre: Contemporary Romance
Publisher: Beth Fred
Publication Date: September 1st, 2014
Format: ebook
Source: Itching For Books
Purchase: Amazon
Synopsis (Goodreads):
When insecure eighteen-year-old Kailee Hill gets caught tagging Iraq war refugee, Abrahem Yohanna's garage, she's not expecting him to act as her designated driver, hold her hair back when she pukes, or offer to be a shoulder to cry on. But she's failing chemistry and her life is falling apart, so she uses the number Abe leaves her and finds herself with a new tutor.
The two quickly find themselves falling hard for each other. Kailee attacks a local grunt when he calls Abe a "sand nigger" and fights with her veteran brother to be with him. When she learns Abe hasn't told his family about her, she's heartbroken and the couple risks losing everything they've worked to build. To make matters worse, Kailee's previous acts make her the prime suspect in a serious crime. With Kailee behind bars and doubting his feelings for her, Abe must find a way to rescue the girl he loves and win back her affection . And to do that he'll have to catch a crook…
Opening Lines
Abrahem
A sports car sat at the curb in front of my house. Ommy worked nights and I was driving her car, so someone was at the house with Mirriam. I sighed. At least, it wasn't that punk across the street. He didn't drive a sports car, and he would have just crossed the street."
Excerpt From: Beth Fred. "Finding Hope." iBooks.
The Good
Finding Hope, the book that gave me serious whiplash!! There were a couple of different points throughout this book that I sat there and actually yelled "Wait…what!?" out loud. This was the first time I've ever read anything with a war reference, Iraq or PTSD. I was a little nervous at first that I wouldn't really be able to relate to the story, but that didn't happen.
When I first started reading Finding Hope I wasn't too impressed with Kailee's character but she quickly grew on me! We get to see her character develop through this story and seeing what she goes through, and what her personal life is like really helps you come to understand her. I loved the dynamics of Abrahem and Kailee's relationship. Definitely an unlikely couple, but I found they worked out well together. While I found each character within this story to be interesting and a good mix to the plot, I couldn't help but feel like I was missing some information. I wish I knew that this was originally part of a series, I would have loved to have read book 1 first to get the full history of each character.
Finding Hope touches on some pretty heavy topics and issues that made this book more realistic, relatable and just unique. It was interesting reading about PTSD and racism. I also enjoyed the sub-plots that took place with each character. Although I felt like Jackson's story was rushed and I would love to seem him get his own book. Maybe there will be a book 3?! I can only hope…
Lasting Impression
Overall, Finding Hope was an interesting read! I was pleasantly surprise with this being my first time reading a book that handled Iraq & PTSD. I'll have to try and find the first book so I can read them back to back and get the full picture of all the characters.
Giveaway!
ABOUT THE AUTHOR
Beth Fred is a full time ELF keeper and part time author/blogger/writing instructor. She's represented by Kathleen Rushall of Marsal Lyons Literary Agency. Beth likes her tea hot, her romance sweet, and her guys chivalrous. Real men hold open doors, refer to you as ma'am, make promises they keep, and aren't afraid to profess their undying love. It's not breakfast if there aren't carbs (at least, not in the South). Fajitas, carnitas, and churros are just few of her favorite things. Bet you can't guess where she's from 😉
bethfred.blogspot.com | TWITTER | FACEBOOK
Thanks for stopping by!