**Waiting on Wednesday is a weekly meme hosted by Breaking the Spine that spotlights highly anticipated upcoming releases.**
The Murder Complex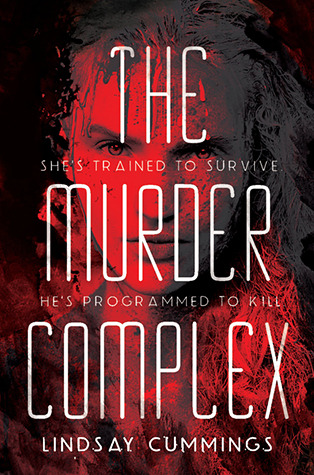 Author: Lindsay Cummings
Series: The Murder Complex, #1
Genre: YA, Science Fiction, Dystopia
Publisher: Greenwillow Books
Expected Publication Date: June 10th, 2014
Format: Hardcover, ebook
Purchase: Amazon | Chapters | B&N | Kobo

An action-packed, blood-soaked, futuristic debut thriller set in a world where the murder rate is higher than the birthrate. For fans of Moira Young's Dust Lands series, La Femme Nikita, and the movie Hanna.
Meadow Woodson, a fifteen-year-old girl who has been trained by her father to fight, to kill, and to survive in any situation, lives with her family on a houseboat in Florida. The state is controlled by The Murder Complex, an organization that tracks the population with precision.
The plot starts to thicken when Meadow meets Zephyr James, who is—although he doesn't know it—one of the MC's programmed assassins. Is their meeting a coincidence? Destiny? Or part of a terrifying strategy? And will Zephyr keep Meadow from discovering the haunting truth about her family?
Action-packed, blood-soaked, and chilling, this is a dark and compelling debut novel by Lindsay Cummings.
---
This actually was released yesterday but I still decided to keep it for my Waiting On Wednesday post. I have been waiting for this book to be released; it even made the list for my Top Ten Tuesdays (1): Top Ten 2014 Debuts I'm Excited For. So I'm highly looking forward to heading to Chapters and picking this book up, hopefully today if not this weekend!
I'm also hoping that this will be the book that will break me into the Dystopia genre. Minus 1984 and The Giver the only Dystopian book I've read is The 5th Wave, which dragged me into a reading slump back in January and I haven't been able to finish it since! I own a couple that fall under this category but none have really appealed to me as much as The Murder Complex does.
What book are you currently waiting on?!