Aspen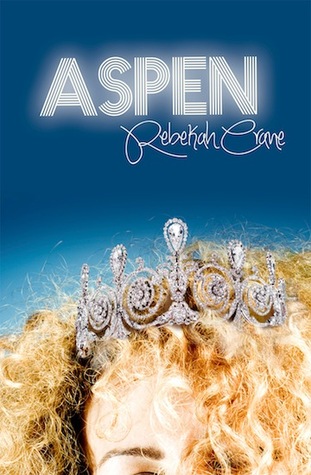 Author: Rebekah Crane
Series: Standalone
Genre: YA, Romance, Paranormal
Publisher: In This Together Media
Publication Date: June 5th, 2014
Format: ebook
Source: Jen Halligan PR
Purchase: Amazon
One quiet night in Boulder, Colorado, Aspen Yellow-Sunrise Taylor made a mistake.
In the next instant, her life changed forever.
Aspen doesn't want to remember the car accident that killed Katelyn Ryan, a sleek-haired popular soccer player. But forgetting is hard– because Katelyn may have died — but she didn't leave. Her ghost is following Aspen around, and heading into senior year, it's kind of a problem. Especially when Katelyn's former boyfriend Ben appears to be the only person at school with a clue as to how Aspen feels.
Popularity, Homecoming Court, hot guys – none of these things ever mattered to Aspen. She's been busy trying to keep her stoner mother Ninny in line and out of unemployment. But with Ben sitting next to her in Physics and her therapist begging her to remember all the things she wants to forget, Aspen is thrust into a vivid, challenging world she can't control … and doesn't want to.
A darkly funny, emotionally gripping story of opening up, letting go, and moving on, Aspen is about the best-worst accident of your life … and what comes next.
---
First Impression
This will be my first Rebekah Crane book, I didn't get the chance to read Playing Nice so I'm excited to read this. Aspen Yellow-Sunrise Taylor…that is a mouth full of a name! This sounds like something that could be made into a TV series or movie. However, the synopsis is really intriguing but I worry this might be a complex story to follow.
Opening Lines
"Aspen Yellow-Sunrise Taylor, get your gimpy butt down here," Ninny yells from the bottom of the staircase."
The Good
Rebekah Crane has created a unique and simple story. I enjoyed the fact that the plot wasn't too complex and I didn't struggling to understand everything that was taking place. Every character played their part and there wasn't a single moment that I felt a character was being used as a filler while reading Aspen. I have to say that Aspen was one of my favourite characters, what I can say? I love when characters are sassy! And Aspen is Sassy with a capital S! I have to say my favourite thing about this whole novel was how real it felt! Rebekah Crane has a way of writing and makes you feel like your witnessing the trauma first hand!
The Bad
Nothing I would consider bad.
The In-Between
Developments/Flashbacks

– There were some flashbacks that I felt could have used more visual details for the readers. Also, there were developments between characters (trying not to give anything away!) that were not included in the story, it was obvious they took place but there wasn't enough details for readers to get the full picture.
Lasting Impression
Overall, Aspen is a beautifully written and unique book with key concepts of self discovery. I'm now a fan of Rebekah Crane and can't wait to read another one of her novels!
---
Link: http://youtu.be/QVTve0hAlk8
Video created by Genius House Media. Find them on Facebook and Twitter!
One (1) winner will receive a signed copy of Aspen, an ebook of Playing Nice, and a $10 Amazon gift card (US only).
Five (5) winners will receive an e-book copy of Aspen (INT).
Rebekah Crane fell in love with YA literature while studying Secondary English Education at Ohio University. After having two kids, living in six different cities, and finally settling down in the foothills of her beloved Rocky Mountains, her first novel, PLAYING NICE, was published. ASPEN, her second YA novel, set in Boulder, CO, is due to release in summer 2014 from In This Together Media. She now spends her day carpooling kids or tucked behind a laptop at 7,500 ft high in the Rockies, where the altitude only enhances the experience.
Links: Website | Facebook | Twitter | Tumblr | Goodreads
Thanks for stopping by!